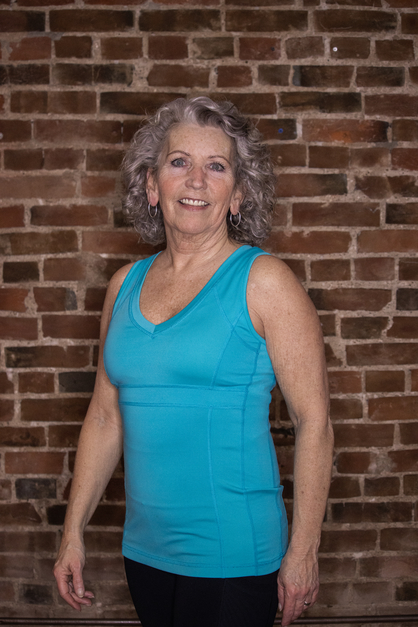 Vicky is the studio owner and founder of River Bend Yoga and River Bend Yoga Teacher Training Program.
Yoga became a way of life for Vicky in 2004 after her second back surgery. While in physical therapy, she discovered that the exercises prescribed for rehabilitation were yoga postures. She researched yoga and became a regular practitioner.
In 2011, she felt a desire for more knowledge. She was inspired to enroll in a 200 hour yoga teacher training program. She graduated in 2012 with her RYT-200 certificate. Vicky started teaching right away, and knew she was on the right path. With the encouragement of her family, she opened River Bend Yoga in June of 2014. Vicky enrolled in an advanced 300 hour training program in 2015 to secure her 500 hour accreditation through Yoga Alliance.
Taking care of the body, warding off injuries, and living mindfully is important to Vicky. She teaches this in her classes. Through focusing on alignment and proper breathing techniques, she always keeps her students' health and well-being in mind. Her passion is to guide students on how to use the practices of yoga to create healing & integration and to live an authentic and inspired life. Beginning her own yoga journey in her 40's, Vicky is very much aware of how yoga, meditation and healthy living can help the body and the mind age more gracefully.
Vicky currently teaches Hot Yoga, Aerial Yoga, and Aerial Fit. Vicky inspires students to find balance in their lives and challenges them both physically and mentally.
In 2020 Vicky opened River Bend School of Yoga, a Yoga Alliance (YA) accredited school. Currently offering 200 hour Yoga Teacher Training (YTT) and continuing education classes to keep Yoga Teacher current on their credentials. Soon, the offerings will expand to include the advanced 300-hour YTT and an Aerial Certification Program.
Vicky feels incredibly honored to have the opportunity to share these ancient teachings.
Outside of yoga, Vicky enjoys hiking, cooking, vacations with her husband Jim, and spending time with her children and grandchildren seeking adventures and making memories. She is a dog lover and avid reader, enjoys time at home curled up with a book and her rottweiler Remington.
"Living mindfully is the foundation to a happy, healthy, well-balanced life."
---
---